To exclude unwanted items such as ringtones from your media library, go to the Folders view and find the folder containing the files you want to remove. For example, let's say you have three ringtones in your Downloads folder that appear as an unwanted "Unknown Album" entry among your albums.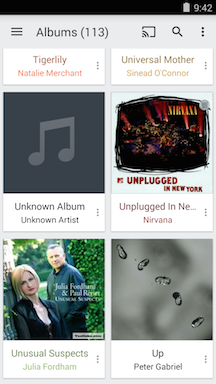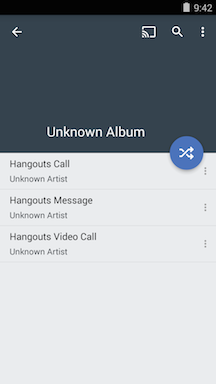 To remove these entries from your library database, you can "ban" the folder that contains them. In this example, that's the Download folder.
Go to the Folders section and tap on the three-dot Overflow/Options menu next to the Download folder to bring up the contextual menu. Select "Ban Folder" and then select "Ban Folder" again in the confirmation dialog to ban the folder.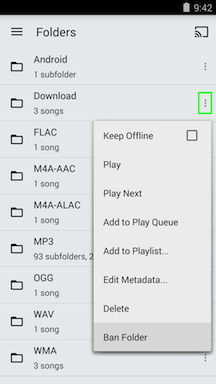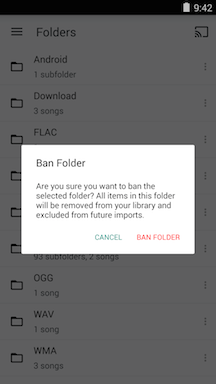 The Download folder is now removed from the Folders list and the ringtones no longer appear in the Albums section.
Once banned, folders will remain banned. None of the entries from banned folders will appear again even if you unlink and then relink a cloud account or reset the library database.
To unban a folder, go to Settings. Under the General section, a new "Banned Folders" option will now be visible. Tap on it to bring up a dialog with a list of banned folders.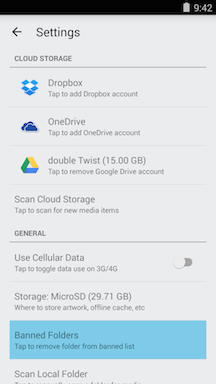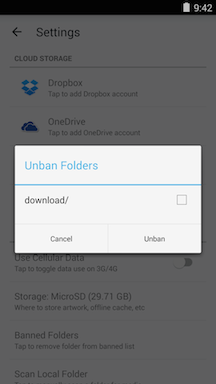 Select the folders that you want to unban and then select "Unban" to confirm. The selected folders will be restored to the library database. As part of the restoration process, a new cloud scan will be performed, even if the unbanned folders are local.